Is the much-awaited Goa holiday on your cards? Break free the conventional vacations! Yes, the routine sun-tans and the beach volleyball have become conventional, and so you've got to do something else. You've got to go yachting with Luxury Rental yachts for private parties in Goa. Here's a blog that serves your excitement to know about the best charter yachts in Goa.
Goa undoubtedly could be coined as the most preferred holiday spots in the country, especially by the youth, who are otherwise engrossed in their daily routines, and stuck in between bumpers hearing the cars honk. Goa helps them break free the corporate routine clutches and set out to rejuvenate and refresh themselves. So, you are finally going to execute your Goa holiday plans, and making it to the exciting coastline. But, sipping your mock-tail on the beach with your glares on isn't really a great idea! Book your yacht on rent in Goa with Luxury Rental and make your holiday a more special one. Of course, holidaying in Goa doesn't take place every day, so why always follow the routine holiday traditions? Walk the better way this year, and we're sure, you would tread it every time! We've got some of the most spacious and well-equipped yachts in Goa for groups of all sizes and partying appetite. Take a look at the best luxury yachts in Goa, and settle onto the best one you would like to party on!
Luxury Rental Yacht on Rent in Goa – The Best way to float on the Blue Carpet!
Are you the flamboyant party animal, who likes to party with at least 30-40 people around, or are you the silent one who likes to pull out a calm and peaceful evening on a yacht? Well, it doesn't matter when you partner with Luxury Rentals. We've got a diverse range of yachts and cruise in Goa matching your party demands.
Here's a list of the luxury yachts in Goa offered by Luxury Rentals.
Catamaran Goa Catamaran Cruiser
Princess 42
Motor Yacht Goa Fairline 42
Fairline Squadron.
Motor Yacht Goa LAGOON 44
Pontoon Cruiser
Party Yacht Goa FLOR DO MAR
Catamaran and Boats Goa Free Spirit.
Majesty 66
Woof Woof
Rinker 260
Azimut 39
Scaramanga II
Sea Breeze
Sea Ray 330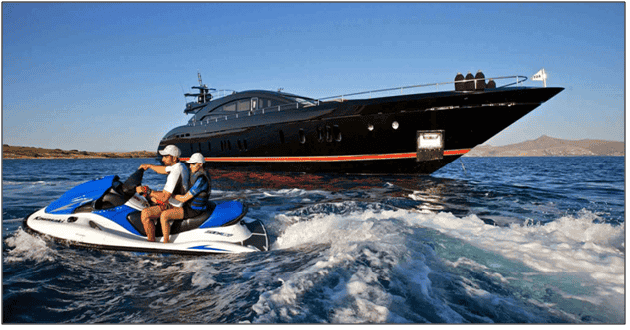 Partying and much More!
Life is a blend of those wild, delicate and soothing moments! For some, partying does not necessarily refer to a noisy evening. For such people, a romantic evening with the partner could be the best way to celebrate happiness! We boast about ourselves to be catering to the demands of all such human emotions, and therefore cruise options apt for the below events.
Tying the knot amidst the cool evening breeze on a yacht
Celebrating the last bachelorhood moments
Stepping out of the traditional AC conference halls and let innovations flow with a perfectly arranged corporate meeting on a yacht.
Celebrating those once in a year birthday parties.
Making your partner feel more special and loved with those romantic evenings.
There's much more, we offer yachts in Mumbai as well! So do not keep thinking! As I said, holidaying in Goa doesn't take place every-day. In fact, it is your hard-earned holiday. Make it more special with Luxury Rental luxury yachts in Goa. For more details on the available yachts, speak to us at +91 78873 66687/ +91 7022600117 or pen down your requirement at booking@luxuryrental.club.